Neil Davidge completes score for the forthcoming BBC One pre-apocalyptic crime drama Hard Sun starring Jim Sturgess & Agyness Deyn.
Hard Sun written by Neil Cross, the creator of Luther, is pre-apocalyptic crime drama. The series is bold, ambitious, relevant and dark but it's also very moving and told through complex extraordinary characters.
Detectives Elaine Renko and Robert Hicks, partners and enemies, seek to enforce the law and protect their loved ones in a world that every day slips closer to certain destruction.
Writer Neil Cross says: "Imagine the world you see when you look out your window… except it's been given a death sentence. This isn't science fiction. This is the real world. There's no hero to come save us; no contingency plan. We've got five years."
The show is due to air on BBC One early 2018.
We are Proud to Welcome Amy Montgomery to our roster!
Hailing from Co. Antrim, Northern Ireland, Amy is a singer / songwriter with a most unique vocal sound which channels the spirit of Janis Joplin and Grace Slick. Her self-produced recordings with local co-producer Michael Mormecha, fuse styles ranging from eastern tinged alt-rock, poignant story telling to energetic soul and blues.
Her voice has been carved from relentless busking throughout Ireland and the first 'single' Dangerous' was self-released to critical acclaim in April 2017. Since then, Amy has completed an Irish tour, played a handful of Irish festivals and recently returned from a trip to Vietnam which spawned a whole new collection of inspired material. Amy and Michael are now ensconced in her Antrim farmhouse studio writing and recording new songs for her debut album in 2018.
STONE BROKEN SIGN WORLDWIDE DEAL WITH SPINEFARM/UNIVERSAL RECORDS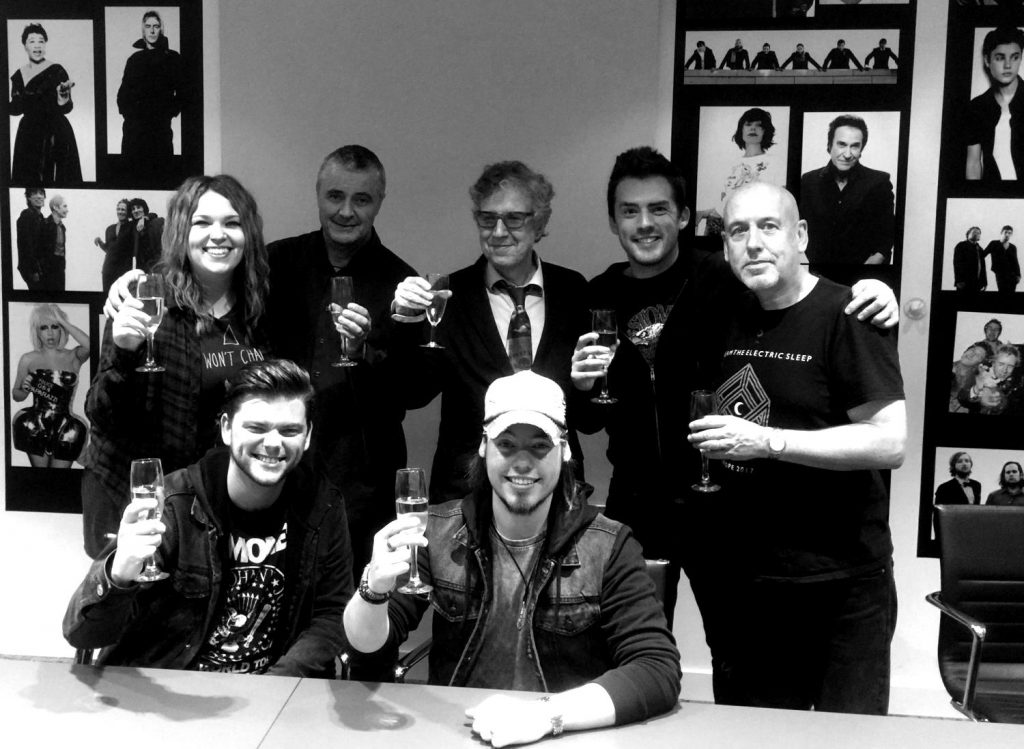 Stone Broken embark on a fresh chapter in their career having now joined forces with Spinefarm Records on a global basis; the first fruits of this new deal will be second studio album, 'Ain't Always Easy', set for release on March 2nd 2018.
'Ain't Always Easy' – produced & mixed by Romesh Dodangoda at Long Wave Recording Studios in South Wales – sees the UK rockers further honing their innate ability to match musical and emotional weight to truly telling effect; the vision is broad, the song-writing skillful, the riffs 'n' choruses both memorable and mighty.
Lead single / lyric video 'Worth Fighting For' – due for worldwide release on November 17th – sets the tone for what's to come, bristling with energy and ambition, making it clear that the musicians are fully prepared for what lies ahead.
Indeed, since the release of their 'All In Time' debut (2016), also helmed by Dodangoda, the four –  Rich Moss (vocals / guitar), Chris Davis (lead guitar / vocals), Kieron Conroy (bass / vocals) and Robyn Haycock (drums) – have been fully occupied building their career and establishing the Stone Broken brand from their West Midlands base.  Along the way, they've forged a close bond with their fast-growing fan-base ('The Broken Army'), attracted strong media support (especially from Planet Rock, who are presenting the headline tour next year), and notched up impressive live achievements in the UK and Europe, including tours with Glenn Hughes and Living Colour, plus appearances at this year's Download and Ramblin' Man Fair, opening the main stage at the latter. 
Says Spinefarm Records UK Head of A&R, Dante Bonutto: "Who doesn't like big, driving riffs and massive choruses?! It's easy to be impressed with Stone Broken on a musical basis alone – at last, a UK band with the sound and the attitude to make it possible for them to compete with rock's elite names, most of them US-based. Add to this a down-to-earth approach with a dedicated work ethic, and you have a group whose career is already proceeding at pace. We're hitting the ground running here, and given the close relationship that already exists between audience and band, I'm sure that the Stone Broken / Spinefarm axis will pave the way for a seriously exciting future."
Over the next few months, Stone Broken will be appearing at select UK festivals –including Planet Rockstock and Winter's End, where they occupy headlining slots – supported by a digital re-issue of 'All In Time' via Spinefarm on November 17th (an expanded version on CD and vinyl follows in A
ugust 2018– previously the album has only been available online and at SB shows).
STONE BROKEN SIGN LONG TERM GLOBAL PUBLISHING DEAL WITH UPRAWR/NOTTING HILL MUSIC

UPRAWR/Notting Hill Music are "mega stoked" to announce the signing of a worldwide long term publishing deal with STONE BROKEN and are extremely happy to welcome them to "the family"!
Hailing from the West Midlands, STONE BROKEN will be following in the footsteps of local heroes Black Sabbath, Judas Priest, Led Zeppelin, Duran Duran, UB40, ELO, and many, many others, as they launch themselves on the road to world domination!!
Both UPRAWR and Notting Hill are very excited to team up with the band, not only because of their powerful melodic song writing but also for the head strong and resilient work ethic they have shown with intense touring and festival appearances over the past couple of years.
Roy Davis…Head of UPRAWR Music explains…"I tried to sign the band around a year ago…and missed out by one day!!  I was truly gutted! Then around a couple of months ago, John Saunderson, Head of A&R at Notting Hill was approached by the band's new management to see if we were interested…were we! We went all out to make sure we didn't miss out this time around"
With huge support from Planet Rock radio who are presenting next years debut headline tour and a recently inked global record deal with the legendary Universal Spine Farm Records, UPRAWR and Notting Hill are incredibly excited about being part of the team and looking forward to a very successful 2018.